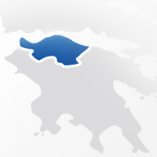 Achaia is a prefecture of Greece located in the northern Peloponnese and belongs to the region of Western Greece.
It borders to the east with the prefecture of Corinth, to the south with the prefecture of Arcadia, and to the southwest with the prefecture of Ilia, and is wet by the Gulf of Patras.
The capital of the prefecture is Patras, Greece's third largest city, which is also characterized as the country's main ferry port to western Europe.
Information
| | |
| --- | --- |
| Geographical locality: | Peloponesse |
| Region: | Western Greece |
| Capital: | Patras |
| Population: | 322,789 residents |
| Area: | 3.271 km² |
| Population density: | 98,7 residents/km² |
| Provinces: | 3 |
| Municipalities: | 21 |
| Communities: | 2 |
| Postal Codes: | 25* **, 26* ** |
| Website: | www.achaia.gr |
Source: wikipedia